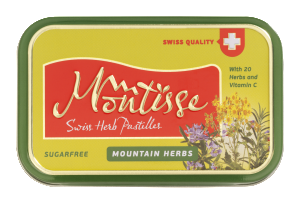 In Switzerland, various herbs are cultivated and harvested according to old traditions.
Herbs are grown in the mountains and the valleys.
The high quality of these herbs is greatly dependent on the growing area, the cultivation method and the production technology. 
The aromatic herbs are tended and nurtured by mountain farmers. It is only when the herbs have developed their full aroma that they are carefully harvested. The first quality controls on the fresh herbs are already carried out in the herbal garden.
Montisse uses a delicate combination of the 20 finest  herbs for its herb pastilles, and these are blended according to ancients recipes.